If you want a bike or e-bike that can only be delivered by the manufacturer at a later date (more information here), you still have to order this bike "normally". This means that you select your desired size and place the bike in the shopping cart
1. Step: Check availability #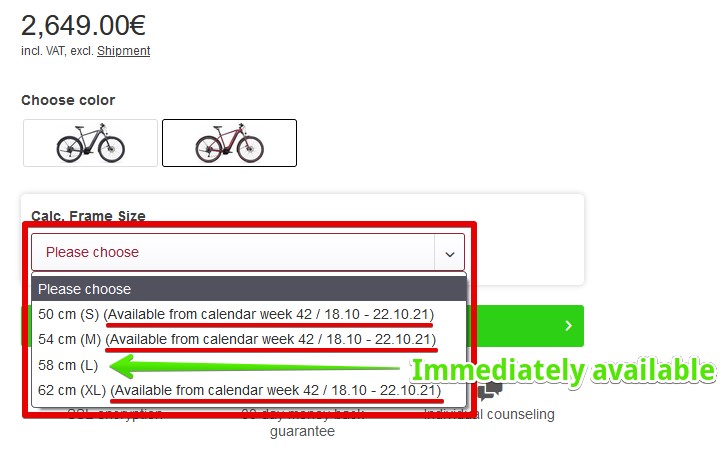 What does "Available from calendar week 42 / 18.10. – 22.10.21" mean?
This is the delivery date that the manufacturer will give us if we order this bike from them today.
For you, it means: If you want to have this bike on the date shown, you must order it now. We will then receive it from the manufacturer in calendar week 42 from 18/10 to 22/10. We will then assemble it and send it to you
2. Step: Add the bike to your shopping cart #
After you have selected your frame size, you can click on the button "Add to shopping cart".

3. Step: Order and pay #
You order the bike as usual, pay for it, and we will ship your bike as soon as it has arrived from the manufacturer and we have assembled it for you. How the ordering process works, in detail, we have written down here.
How helpful was this page for you?